"Made in SH - Large Steel Casting in Mühlental from 1877 to 1992" 
This year's Heritage Day was held on a beautiful late summer day at the former GF steel foundry in Schaffhausen - an industrial monument of national importance. Under the direction of Schaffhausen's Denkmalpflege department, the transformation of the monumental halls into a new city district was presented to around 500 visitors over the course of the day.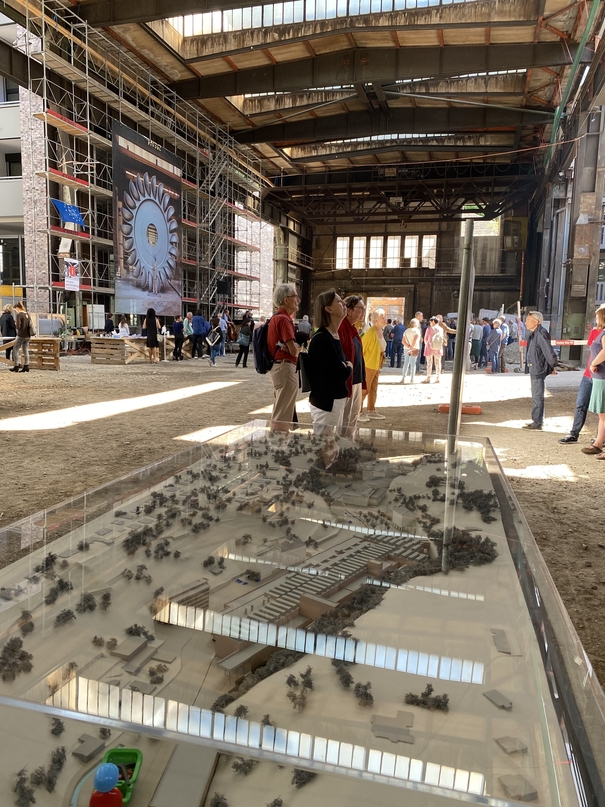 The Iron Library was there with photos, films and objects from the GF Corporate Archives, bringing the Querhalle of the steel foundry back to its industrial life. From 1877 to 1992, specialists at the Stahlgiesserei produced large steel castings of world renown. Large steel castings up to eight meters long and weighing almost 100 tons were produced in the former "Werk I", many of them turbines and housings for hydroelectric and nuclear power plants. The production portfolio comprised about 70 different steels and alloys with two to seven alloy components. The castings were made for top technical performance and were tailor-made. Two famous architects were responsible for the appropriate monumental setting: Karl Moser, ETH professor and architect of the main building of the University of Zurich, and later Rudolf Mewes, a Cologne architect with rich experience in industrial construction.
The Iron Library's pop up exhibition "Made in SH – Grossstahlguss im Mühlental von 1877 bis 1992" presented this architectural and industrial history to enthusiastic guests through information placards, archival films, photomontages and the architectural model from the site's 1958 extension work. The stand was consistently well visited throughout the day, drawing groups who marveled at the enormity of the large castings and the scale of the building projects. The residents of the new homes, former foundry workers and witnesses to the site's past provided stories about the foundry while it was still in operation.
A competition by the Iron Library invited visitors to guess the diameter of the New Colgate Pelton turbine wheel from 1967 – at the time the world's largest Pelton turbine wheel. A photograph of the finished wheel in monumental 1:1 scale had been hung specially in the Querhalle for the occasion. Three lucky winners have been selected from the large pool of participants and each has won themselves and their friends a tour of the Iron Library!
We would like to thank Denkmalpflege Schaffhausen for their organization of the event and in particular those visitors who stopped by with their stories, which gave a special personal dimension to the history on show.
Impressions
1:1 scale: the transparency with the New Colgate Pelton wheel is set up
Flyers and info materials at the ready
The first visitors arrive
The Querhalle exhibition
Visitors examine the 1958 architectural model
The Mühlental timeline
The jazz quartet opening the event before the New Colgate Pelton wheel
Visitors watch the progress of the Mewes Werk 1 from 1939 to 1944
Archive footage of large steel casting draws in viewers
Visitors discuss the Mühlental as it is today with help of the architectural model
...and the same view but of the model for the new development
A view up the Mühlental model from 1958...
The same view but from the perspective of the architectural model for the new development